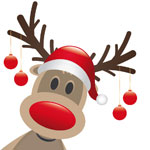 'Tis the Season!
Looking for a special holiday party with your co-workers, neighbors, friends or family?
Personal Touch Catering will provide a merry and festive atmosphere for your guests.
Our menus and décor are custom to your special occasion!  Our staff has experience at serving up just the right holiday cheer!
Give us a call or email us about the dates for your event.  Our specialty is making your party worry free and fun so that you can spend more time with your guests, NOT in the kitchen!

Book your parties now!