Catering for Casual to Formal Weddings
Specializing in Receptions, Beach Weddings, and House Parties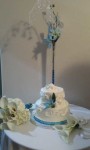 At Personal Touch Catering, we take pride in all of our events. Whether a small event or a large one, we know it's important to you. We help custom build your event from refreshments, appetizers and meals with a variety of menus. Personal Touch Catering uses creativity to create the look and décor you desire.
Weddings are our specialty. Personal Touch Catering has decades of experience in creating beautiful and memorable weddings — from formal sit down receptions to casual beach cocktail hours.
Browse our Custom Menus for your special occasion.
Call us for a free estimate 239-945-2456

Learn more about Personal Touch Catering on Wedding Wire